May 2021
---
In this issue:

Mother's Day Blessing
Is it time to come back? – Reconciliation
Cardinal Joseph W. Tobin, C.Ss.R., Archbishop of Newark, Pastoral Letter on the Eucharist called "Returning to Grace"
St Thomas The Apostle Social Concerns Ministry
Cardinal Tobin's Pastoral Letter on the 500th Anniversary of the Arrival of the Gospel in the Philippines
Take Action to Protect the Hyde Amendment
Annual Appeal Update
Solemnity of the Ascension – Sunday May 16
Solemnity of Pentecost – Sunday May 23
Adoration May 24 at 7:00PM
Deacon Brian's 10th Anniversary – Mass of Celebration on Saturday, May 29, at 11:00AM
Solemnity of the Trinity – Sunday May 30
Memorial Day – Monday May 31
Solemnity of the Body and Blood of Christ – Sunday June 3
Feast of Saint Anthony – June 13
COVID Vaccine Support

Are you having trouble viewing this email?
Click here to view the newsletter on the St. Thomas website.
Click here to view the newsletter as a PDF

Do you know someone who would be interested in receiving future emails?
Have them signup at https://www.stachurchbloomfield.com/web/monthly-e-newsletter/.

If you are no longer interested in receiving these emails, please use the unsubscribe link at the bottom of this email.

---
Mother's Day Blessing
Loving God, as a mother gives life and nourishment to our children so You watch over Your Church. Bless these women that they may be strengthened as Christian Mothers. Let the example of their faith and love shine forth. Grant that we their sons and daughters may honor them always with a spirit of profound respect. Grant this through Christ our Lord.

Amen.

(Click the image to view the Mother's Day Blessing from 2020.)

"To be a mother is a great treasure. Mothers, in their unconditional and sacrificial love for their children , are the antidote to individualism … motherhood is more than childbearing; it is a life choice entailing sacrifice, respect for life and commitment to passing on those human and religious values that are essential for a healthy society,"
— Pope Francis on January 7, 2015


---
Cardinal Joseph W. Tobin, C.Ss.R., Archbishop of Newark, Pastoral Letter on the Eucharist called "Returning to Grace"
Cardinal Tobin has written a Pastoral Letter on the Eucharist called "Returning to Grace".

Dear Sisters and Brothers in Christ,

When church historians write about the Year of Our Lord 2020, I predict they will call particular attention to the "Great Eucharistic Fast." COVID-19, the pandemic that has taken the lives of millions, obliged dioceses throughout the world to take the unprecedented action of closing our churches and effectively denying our people the opportunity to receive Christ's Body and Blood in the Eucharist. Some scholars may point out that, as a result, Catholics in Europe and North America experienced what others have suffered for many years due to a shortage of priests or outright persecution, namely, the absence of the sacraments…

Please click link for a video and more information.



---
St Thomas The Apostle Social Concerns Ministry
Following the deadly shootings at three businesses in the Atlanta area and other incidents of aggression and violence toward people of Asian and Pacific Island descent in the past months, Bishop Oscar A. Solis of Salt Lake City (Chairman of the U.S. Conference of Catholic Bishops' Subcommittee on Asian and Pacific Island affairs) decried the culture of death, hatred, and violence that underlies these incidents and called for solidarity with our AAPI communities. He expressed sorrow and concern about the rise of hostility against individuals of Asian descent that have left communities traumatized, or any kind of hatred based on race, ethnicity, or sex.

These incidents have prompted a national dialog on what can be done to protect our vulnerable populations and end these heinous acts of violence. Within the Churches "Seven Themes of Catholic Social Teachings" is "Life and Dignity of the Human Person" and "Solidarity". Bishop Solis reminds us that, "Every human being is a brother or sister in Christ, created in the image and likeness of a loving God. "Let us remember God's love and mercy for each one of us and renew the call for conversion of heart, that we may be more united to God's love and share it with all of our neighbors".

The Social Concerns Ministry invites you to deepen your understanding of this issue by going to our STA "Social Concerns" webpage where you will find Bishop Solis' statement in full, the U.S. Conference of Catholic Bishops' Open Wide our Hearts: The Enduring Call to Love 2018 Pastoral Letter, some suggested actions to consider taking in support of our AAPI communities, as well as other links to information on this subject. You are welcome to call or email Michele Gilfillan (mggilfillan@yahoo.com , (646) 584- 8187) if you have any questions or if you'd like to discuss; and of course, to join us in this newly-formed Ministry at St. Thomas to help advance our work.

Social Concerns Page on our website


---
Annual Appeal Update


Saint Thomas the Apostle Appeal Status
February 14th was our Pledge and Collection Weekend. Please continue to drop your pledge and collection envelopes in the collection basket at mass or place them in the lock box at the top of the Parish Center steps. Thank you to those who have already made their gift to the 2021 Annual Appeal. Our goal of $99,856 can only be achieved through YOUR generosity! Under the new Archdiocese guidelines, if a parish does not reach their goal the balance must be made up as an expense in the 2022 parish operating budget year. To date the amount Pledged is $78,522.

Will you join your fellow parishioners in supporting this effort that strengthens many important programs and ministries across the Archdiocese of Newark including our own parish school? Click here for a playlist of the videos produced by the Archdiocese of Newark

If you have not yet made a gift, there will be pledge forms available at the doors of the church, or you can visit https://www.rcan.org/sharing. Please be sure to credit our parish if you donate online. Your gift will truly make a difference. Thank you for your prayers and support.


---
Solemnity of the Ascension – Sunday May 16
Stained Glass Window from Saint Thomas the Apostle Church.

The celebration of the Ascension is transferred from Thursday May 13, 2021 to Sunday May 16, 2021.

When he had said this, as they were looking on, he was lifted up, and a cloud took him from their sight. While they were looking intently at the sky as he was going, suddenly two men dressed in white garments stood beside them. They said, "Men of Galilee, why are you standing there looking at the sky? This Jesus who has been taken up from you into heaven will return in the same way as you have seen him going into heaven." Acts 1:9-11


---
Solemnity of Pentecost – Sunday May 23, 2021
For the Jewish people, Pentecost was a feast of thanksgiving that marked the conclusion of the grain harvest; it was also a time to commemorate the giving of the law at Sinai. It was celebrated 50 days after Passover. For the first Christian believers, gathered to celebrate this feast in Jerusalem, the giving of the Holy Spirit reinvented Pentecost. It marked a new beginning: God would be present among his people not in words carved in stone, but in a whole new way, living in their hearts, and speaking through them. Just as the old feast was a time to celebrate the abundance of God's gifts by giving back to God the first fruits of the fields, so the new Pentecost celebrates the incredible abundance of God's giving, the many gifts of the Holy Spirit.

Pentecost is "the joyful conclusion of the Easter season" (Proclamation of the Dates of Easter on Epiphany). It ranks with Christmas, Epiphany, and the Ascension (see General Norms for the Liturgical Year and the Calendar,61). It is a day to pull out all the stops, a day for incense, processions, banners, for creative expression of the truth we celebrate: the gift of the Holy Spirit has been given to us. Jesus is here!


Pentecost is 50 Days after Easter and is known as the birthday of the Church.

Click Here to read about Pentecost in the Bible (Acts 2)

The stained glass window is from St. Thomas the Apostle Church in Bloomfield, NJ.


---
Solemnity of the Most Holy Trinity – Sunday May 30, 2021
The central mystery of Christian faith and life" is the mystery of the Most Blessed Trinity (CCC, 234 – Click Here to read more).

The Solemnity of the Most Holy Trinity celebrates the doctrine of the Triune God, one God in three divine persons – Father, Son, and Holy Spirit.




The stained glass window is from St. Thomas the Apostle Church in Bloomfield, NJ.

---
Memorial Day – Monday May 31, 2021
We are grateful for and inspired by those service men and women who have given their lives for our country. Thank you!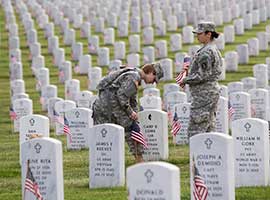 God of power and mercy, you destroy war and put down earthly pride.

Banish violence from our midst and wipe away our tears,
that we may all deserve to be called your sons and daughters.

Keep in your mercy those men and women who have died in the cause of freedom and bring them safely into your kingdom of justice and peace.

We ask this through Jesus Christ our Lord.

R. Amen

Prayer taken from Catholic Household Blessings and Prayers

More Prayers for Those in Military Service

Content taken from http://www.usccb.org/prayer-and-worship/prayers-and-devotions/prayers/memorial-day-prayer.cfm.
---
Solemnity of The Most Holy Body and Blood of Christ – Sunday June 3, 2021
Measured by Church time, the solemnity of The Most Holy Body and Blood of Christ is quite young dating from the mid-thirteenth-century. For hundreds of years, in fact, it was commonly referred to as nova sollemnitas, "the new solemnity" (The Liturgy and Time, 104). This celebration has been given many names over the centuries: feast of the Eucharist, feast of the Most Precious Sacrament, even feast of God. In France it is still commonly known as the Fete-Dieu. The solemnity developed at about the same time as the elevations of the consecrated elements during Mass, and it arose out of the desire of the faithful to see the Blessed Sacrament at a time when they did not often receive it. The solemnity of the Most Holy Body and Blood of Christ is an expression of our Catholic faith in the real presence of the risen Christ in the Blessed Sacrament. Yet, this celebration is also outward-looking, carrying the liturgy out of the Church and into the streets.


The stained glass window is found in the parish center at Saint Thomas the Apostle, Bloomfield, NJ.

---
Saint Anthony of Padua, Missionary & Doctor – Feast Day June 13th
St. Anthony began as a missionary to Muslims but poor health resigned him to monastery work where he realized his great gift of preaching and biblical knowledge. Through his eloquent words many notorious sinners, heretics and careless people were brought to conversion. He was given the title, "Doctor of the Church" in 1946 by Pope Pius XII because of his orthodox preaching and teaching. He died of frail health when he was only thirty-six. Although pictured with lily and Child Jesus, Anthony was known as the "Hammer of Heretics" for his fearless and strong opposition to oppression, clerical abuses and the laity's half-hearted dedication to their faith.

Prayer to Saint Anthony

O Holy St. Anthony, gentlest of Saints, your love for God and Charity for His creatures, made you worthy, when on earth, to possess miraculous powers. Encouraged by this thought, I implore you to obtain for me (request). O gentle and loving St. Anthony, whose heart was ever full of human sympathy, whisper my petition into the ears of the sweet Infant Jesus, who loved to be folded in your arms; and the gratitude of my heart will ever be yours. Amen.



The stained glass window is from the north tower in St. Thomas the Apostle Church, Bloomfield, New Jersey.

---
COVID Vaccine Support
---
Mass Times
Weekend Masses – Saturday 5:00PM,
Sunday 8:00AM, 10:00AM and 12:00PM
Weekday Masses – Monday-Friday 11:30AM
Reconciliation – Saturday at 1:00PM

Guidelines
Everyone must wear a mask before entering the Church and while in the building
Everyone must stay 6' apart when on the church property (both inside and outside the Church)
Everyone must sanitize your hands before entering the church (please bring hand sanitizer with you) If you are sick or feel that you've been infected or exposed to someone who has been infected with Covid-19, you must wait 14 days before entering the Church
We are happy to welcome you back for Mass but please note that even with the best health practices and social distancing, anyone who enters a public space should recognize there is a risk in contracting Covid-19. We will be increasing the cleaning of our Church, but no one should expect they will be any safer from germs here than in other public areas.
---
Mission Statement
The Roman Catholic Faith Community of St. Thomas the Apostle recognizes God's call to be a sign of His Kingdom in the communities we serve.

We respond to this call by:
Leading people to a deeper relationship with Christ by providing opportunities for spiritual growth, renewal, education, the celebration of the Sacraments, and the worship of God in the sacred liturgy;
Encouraging a commitment to justice and to service of those in need;
Promoting good stewardship of our time, talent, and treasure;
Building a community of hospitality and support in the daily living out of Christian ideals by nourishing mutual respect and understanding within our Church, our families, our community, and other faith traditions.